PINCKNEYVILLE, Ill. (KFVS) - The Perry County Agricultural Society announced the full schedule for the 166th annual Perry County Fair, which will kick off on Friday, June 9 in Pinckneyville, Illinois.
According to a release from public relations coordinator for the fair Pete Spitler, this year's fair will represent a reinvention of sorts.
"We've brought some things back, we're welcoming new things and celebrating Americana in a way that's traditional and unique at the same time," Spitler said.
The release highlights some of the featured entertainment this year.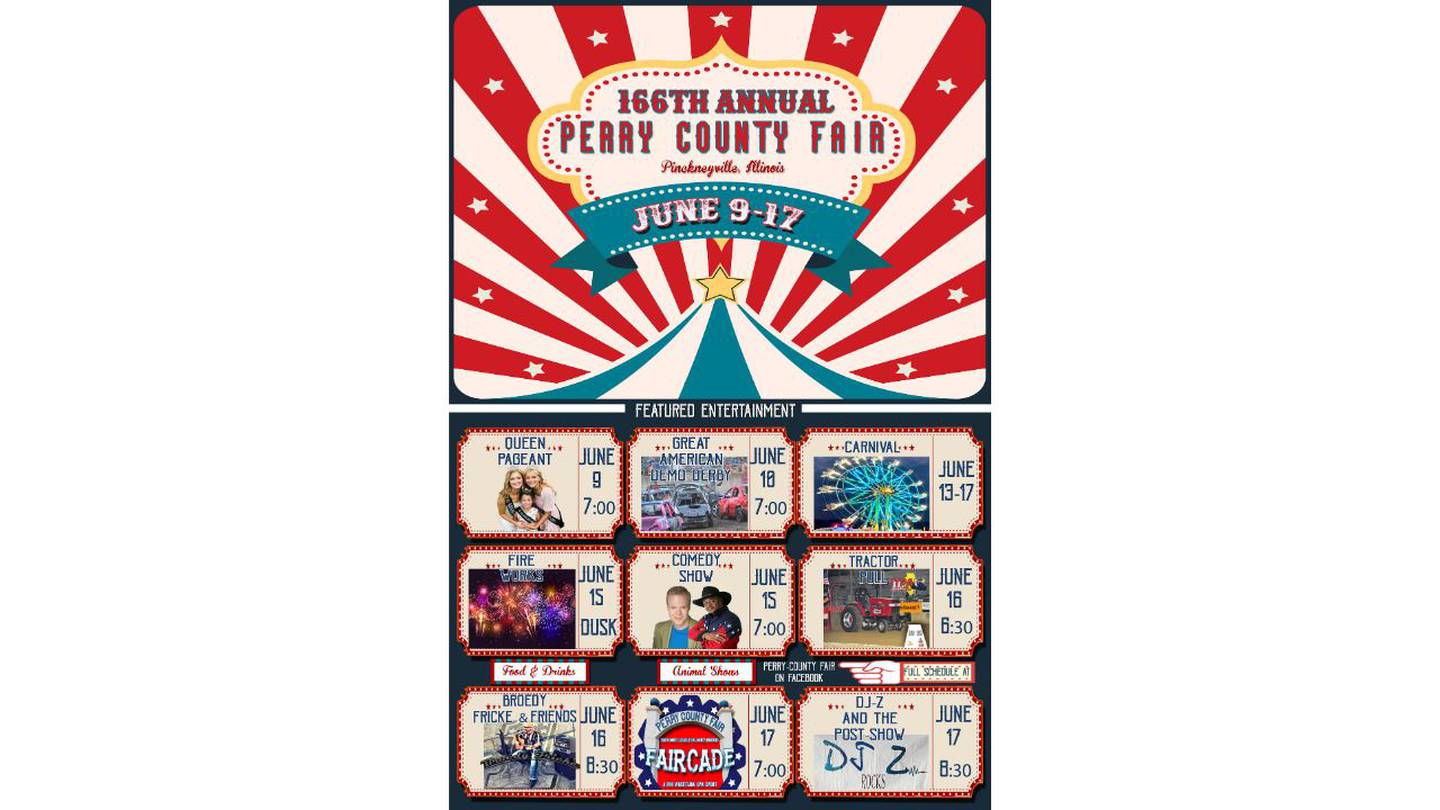 The fair begins with the Miss Perry County Fair Queen Pageant on June 9 with The Great American Demo Derby the next day. The demo derby is the second event in the Triad of Thunder Championship Series that began with Spring Bash on April 29.
On Sunday, June 11, an open livestock show begins at 8 a.m. The Fantazmic Talent Contest will hold auditions at 2 p.m. at the grandstand if necessary, depending on interest.
"We have not had a talent contest at the fair in at least six years," Spitler said. "The winner of both the Junior and Senior divisions will move on to the state contest at the Illinois Association of Agricultural Fairs in Springfield in January."
The carnival, provided by Swyear Amusements, is also returning this year. It will begin with an opening night special of $2 rides from 6 p.m. to close on June 13. The carnival will continue every night for the rest of the week starting at 6 p.m., with two sessions on Saturday, June 17, from 1 p.m. to 5 p.m. and 6 p.m. to 10 p.m.
Comedians Danny Browning and Vernon "Longhorn" Davis will take the grandstand stage at 7 p.m. on Thursday, June 15, with the fair's annual fireworks celebration beginning at dusk. All seats for the comedy show are $5.
The Illinois Hot Farm Stock Pullers Association and Illinois Tractor Pulling Association will have their annual tractor pull event on Friday, June 16 starting at 6:30 p.m. Later that night, Broedy Fricke & Friends will perform at 8:30 p.m. at the pavilion west of the grandstand.
The fair concludes in a big way on June 17, with a carnival matinee followed by a free meet-and-greet with Pro Wrestling Epic superstars and special guest U-Gene from 5 p.m. to 6:30 p.m. in the Expo Hall underneath the grandstand. Pro Wrestling Epic and the Perry County Agricultural Society will present Faircade, the first professional wrestling show in the history of the fair, at 7 p.m. on the half-mile track in front of the grandstand.
Also that night, DJ-Z will entertain fairgoers starting at 8:30 p.m.
For the full schedule and ticket details, visit the Perry-County Fair Facebook page.
Copyright 2023 KFVS. All rights reserved.